2/18/06 New Cases This Week
The purpose of the weekend post is to highlight some of the new cases we are working on. I will choose one child and one adult case. If we do not have a new child case to highlight, as it sometimes happens, I will post two adults cases. As there are many organizations which assist in child cases, but few for adults, we have a tendency to get more new adults cases.
TAHNASHA STRICKER
DOB: Jun 19, 1988
Missing: Feb 4, 2006
Height: 5'4" (163 cm)
Eyes: Brown
Race: Am. Ind.
Age Now: 18
Sex: Female
Weight: 120 lbs (54 kg)
Hair: Brown
Missing From:NORFOLK,NE
Tahnasha has a tattoo on the web area of each hand, a tattoo on her right forearm near her wrist, a scar on her right knee, and a scar on the right side of her jaw. When Tahnasha was last seen, her hair had blonde streaks in it. She may use the alias last name Mesteth.
Norfolk Police Department (Nebraska) 1-402-644-8700
If we have news about Tahnasha, it will be posted here:
http://www.truckingboards.com/trucking/upload/showthread.php?t=17128php?t=428
Missing Adult: Teresa Butler
A summary of the case from news sources:
Teresa Lynn Butler, 35, was last seen at her home near Risco MO around 10 a.m. Wednesday, January 25th, when her husband, Dale Butler, returned from work at a steel mill in Blytheville, Ark.
Dale Butler arrived home to find his two young children, ages 2 and 4, alone in the family home on County Road 241, also known as Eight Ditch Road, just off Highway 62 on the outskirts of Risco. The youngest child was awake and in his bed, while the older child was still sleeping.
There were no signs of forced entry and the only items found to be missing were a video game console, Play Station, camcorder and the stereo from Mr. Butler's Jeep.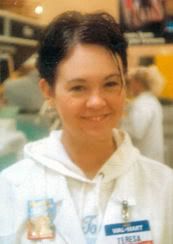 Law enforcement officials spent Wednesday afternoon examining the premises for evidence, scouring area ditches for signs of the missing woman and interviewing family members and friends. According to authorities, the last person to speak with Teresa was a family member who spoke with her around 10 p.m. Tuesday evening. When asked about the conversation, that person declined comment.
A block-by-block search also was conducted within the city limits. In addition, the highway patrol had an airplane circling the area and a National Guard helicopter also was called for a closer search. Operations conducted over the weekend included an expanded aerial search and the arrival of search and rescue dogs brought in from St. Louis. Four- wheelers were used extensively to cover areas in all directions within an approximate five-mile radius of Risco
Teresa Butler is five feet, seven inches in height, weighs approximately 109 pounds, and has brown eyes and hair.
Anyone with information regarding the case is asked to call the New Madrid County Sheriff's Department at 573-748-2516.
For more information about Teresa, please see
http://www.truckingboards.com/trucking/upload/showthread.php?t=618