7/6/08 Project Jason Presents "A Mother's Day Miracle, Missing for 14 Years" Part II
A Mother's Day Miracle, Missing for 14 Years Part II
I sent the letter, and within days, Major Lowery had the case re-opened and Mark's information was added into the NCIC. Now Vicki could receive assistance from the various agencies that help with missing adult's cases. There was great joy in St. Louis and in Omaha that day.
When I shared this story with the Project Jason Board of Directors, I admit to choking up. It was another moment when the bittersweet pain of my own missing son surfaced. The tears were of joy for Vicki and Mark, and the bittersweet was that these things had all taken place because of our own situation. We have the privilege and blessing of being to affect the lives of others in Jason's name.
Vicki had one battle behind her, but now others would begin. Her battles would include educating anyone who would be in the position of locating Mark, so that they understood enough about his situation and mental illness so there would not have a replay of January, 2005. The other battles would be the ongoing work to get any media attention at all, and yet another would be to find a way, should Mark be located, to be able to get him into a treatment situation.
Vicki was now keenly aware of the situation in regards to the homeless. She wondered if Mark had food to eat and shelter everyday. The homeless may be an ignored segment of society, but not in Vicki's eyes. She knew that her son just might be one of those people.
She wished "I would like to see each family adopt a homeless person and help them. They may simply be lost and need someone to help them get to their loved ones. They may not even understand that they are missing."
Vicki and I exchanged thoughts about the lack of media coverage in these types of missing person's cases. What she had to say was simple but true: "The media needs to be educated before it is able to educate the viewers."
I asked Vicki to write a letter about Mark when I introduced his case online.
She wrote:
"Mark Hamilton is my son. He is 35 years old and has been missing for 11 years. He originally disappeared from St. Louis, MO. He has a mental health condition and this prevents him from understanding that he has a family and a home waiting for him. I had previously experienced resistance in getting a Missing Person Report filed. Because of the efforts of Project Jason, I now have an Endangered Missing Report filed, and I can now seek your help.
Every day I think about how Mark has missed most of the best years of his young adulthood. I think about him every time I eat, wondering if he was able to eat that day. I think about him when it rains and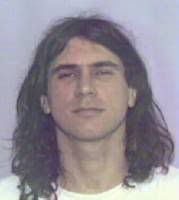 wonder if he is able to protect himself from the rain and storms. I think about him each night when I go to bed and imagine how horrible it must be to sleep in the woods, swamps or on the side of a building.
Mark was a very kind, sensitive boy growing up. He was an incredible artist, musician and was very athletic. I believed he would have a bright future. But then in his late teens to early twenties, he became mentally ill. I desperately tried to get him help, but while he was in a special program 11 years ago, he left in the middle of the night and has been wandering and homeless ever since.
A few sightings of him have been reported in the last couple of years throughout Florida; but by the time I received the information, he was long gone. At least I know that he was alive as of January 2005. He was, at that time, thought to have lived in the woods and swampy areas by himself, and was seen with a cat on a leash. His mental illness makes him paranoid of people.
I pray for his return and for the many other missing loved ones out there. I am still hopeful that I will be able to hug Mark and tell him how much he is loved once again.
Thank you in advance for any prayers for my son and/or action you might take to aid in his location.
Vicki"
1st part of timeline of events after police accept Mark's case and Project Jason publicizes it:
6/27/05:
Information and photos of Mark have been received and posted. Project Jason sends out a notice to other agencies and interested persons about Mark's case.
8/15/05:
Project Jason places Mark on their Come Home program and notifies numerous homeless shelters about his case.
9/8/05:
Weeks after Mark was placed on our Come Home program, a person associated with a homeless shelter in CO claimed to have seen Mark.
I wrote a story about this incident:
Mark was placed on our Come Home program just weeks ago. Come Home is the 1st ever national missing person's locator program which seeks the missing among the homeless. As it was a near certainty that Mark was living a homeless lifestyle due to his illness, we placed him on the program. On August 16th, our Come Home participants, which consist of homeless shelters, soup kitchens, and related entities, were given notification of Mark's campaign, and asked to print and display his poster.
Last Friday, September 2nd, a homeless preacher named Bubba picked up another homeless man and gave him a ride to a town in Colorado named Pagosa Springs. Bubba owns a jeep, but little more. He goes to the soup kitchen in a nearby community on a daily basis to help with the meals. This particular soup kitchen is one of our Come Home participants.
The next time Bubba went to the soup kitchen, he spoke with a worker there, a woman named Kim. In their conversation, Bubba mentioned that he had given a ride to a homeless man. Kim interrupted Bubba, and went to get the Come Home poster she had posted. She showed it to Bubba, and asked if the man he spoke of was the same man as shown on the poster, Mark Hamilton. Bubba said a very astonished "yes".
The two of them were amazed. Kim called the law enforcement contact listed on the poster and let them know what had happened. The detective was also shocked at this odd and coincidental chain of events. He called Vicki, who was speechless. Could this be her Mark?
If you have been reading our stories, you have probably noticed that frequently, the families of missing loved ones describe the emotional ups and downs as like being on a roller coaster ride. Just the day to day emotions of this type of loss can be like a harrowing ride. When something like today's events occur, the ride intensifies dramatically.
Vicki knows that she needs to try to be "neutral" about this sighting. If you get your hopes up too high, and then you find out it is not your missing loved one, then you fall much harder. It is difficult to pick yourself back up and go on once again.
On Friday, Kim will have Bubba contact Vicki so that she can try to ascertain if it was indeed Mark, and if he gave any clues to where he might be headed. The unfortunate thing, as Vicki is well aware, is that it was a week ago when these events transpired. Mark might still be in the area, or he could be several states away. Even so, Vicki will not give up hope that she can and will find Mark.
Because of his illness, he may not truly understand what it means to be homeless and that his family is looking for him. He may feel compelled to keep moving. Mark has been reported to ride on freight trains and to hitch rides. He likes to be near the ocean and does not like cold weather. There have been reports of him being in NY, VI, FL, and CA. Vicki's gut instinct told her that Mark was going to CA, L.A. specifically, but she has nothing to substantiate this, other then those first thoughts and the reports from the past.
We hope that Bubba will come to the soup kitchen and call Vicki. She is very anxious to speak to him to get as much information as possible. Any tips or clues she gets from speaking to him will be shared with us and with law enforcement. Project Jason is not an investigative agency, but based upon the details, we can give suggestions and resources as needed.
We ask that you, our readers, our angels, and our seeking eyes, to help in any way that you can. We need to get Mark's poster out there, and ensure that as many law enforcement agencies, shelters, and soup kitchens in this area and in a path to L.A. see his information. Authorities need to understand that he is a mentally ill person, and even if he seems fine, effort should be made to see if he will go with them long enough for them to contact the detective in St Louis (the phone number is on the poster) and for him to agree to go in for an evaluation.
We hope that Bubba will be able to tell Vicki something definitive about Mark's future travels. It may be possible that he is not headed west. As we receive additional information, we will post it here.
It just seems as if there are too many "coincidences" in this story for something good NOT to occur. Vicki agrees.
So, please God, can you make this miracle happen for Vicki? It's been a very long time for her to be without Mark, and to go to bed each night hoping and wondering.
Unfortunately, "Bubba" was never located to question him.