All for the Love of a Child
It was hot that Sunday, and brutally so. It was the kind of day when old-timers tell you: "It's hot enough to fry an egg on the sidewalk." And still they came. Some knew the missing child, and some did not. They came for the love of a child.
Katlyn Mlnarik. One look into her eyes tell you she is an innocent youth. She does not have a grasp as to the realities of the world beyond her home in a small town near Norfolk, Nebraska. Her mother, Shelly, will tell you that immediately: "She's a kid that's afraid of the dark. I can't imagine her being gone this long. She hasn't called me to say 'I'm OK. Stop worrying about me.'"
In that sweltering heat on that Sunday, a couple of weeks ago, we gathered in Omaha to help the family with a poster spread campaign. There was the possibility that Katlyn was or could be in Omaha, so we wanted to saturate the pinpointed area with posters.
Along with Katlyn's family and friends, we also had the help of 4TheKids.org, a local nonprofit organization that helps find missing children. We had close to 1,000 posters to distribute for Katlyn. We had the area mapped out, assigned sections to groups of volunteers, armed them with tape and water, and sent them on their way.
Shelly did not go put up posters for her daughter. She was kept busy doing something that many families of the missing do not get to do. She was speaking to the media.
We have four networks here in Omaha, and every single one of them came! I was so thrilled for Shelly, because I know how precious that exposure is for these families. Get the face out there, and keep getting it out there. That is the key.
They were all very respectful and compassionate. Maybe it started with us and Jason's case, I do not know, but I do observe that they have been very good about covering missing person's case. Bravo and thanks to our friends at KETV, WOWT, Fox42, and KMTV. It meant so much to me that they all came. Fox42 even did a follow-up story yesterday.
In some ways, w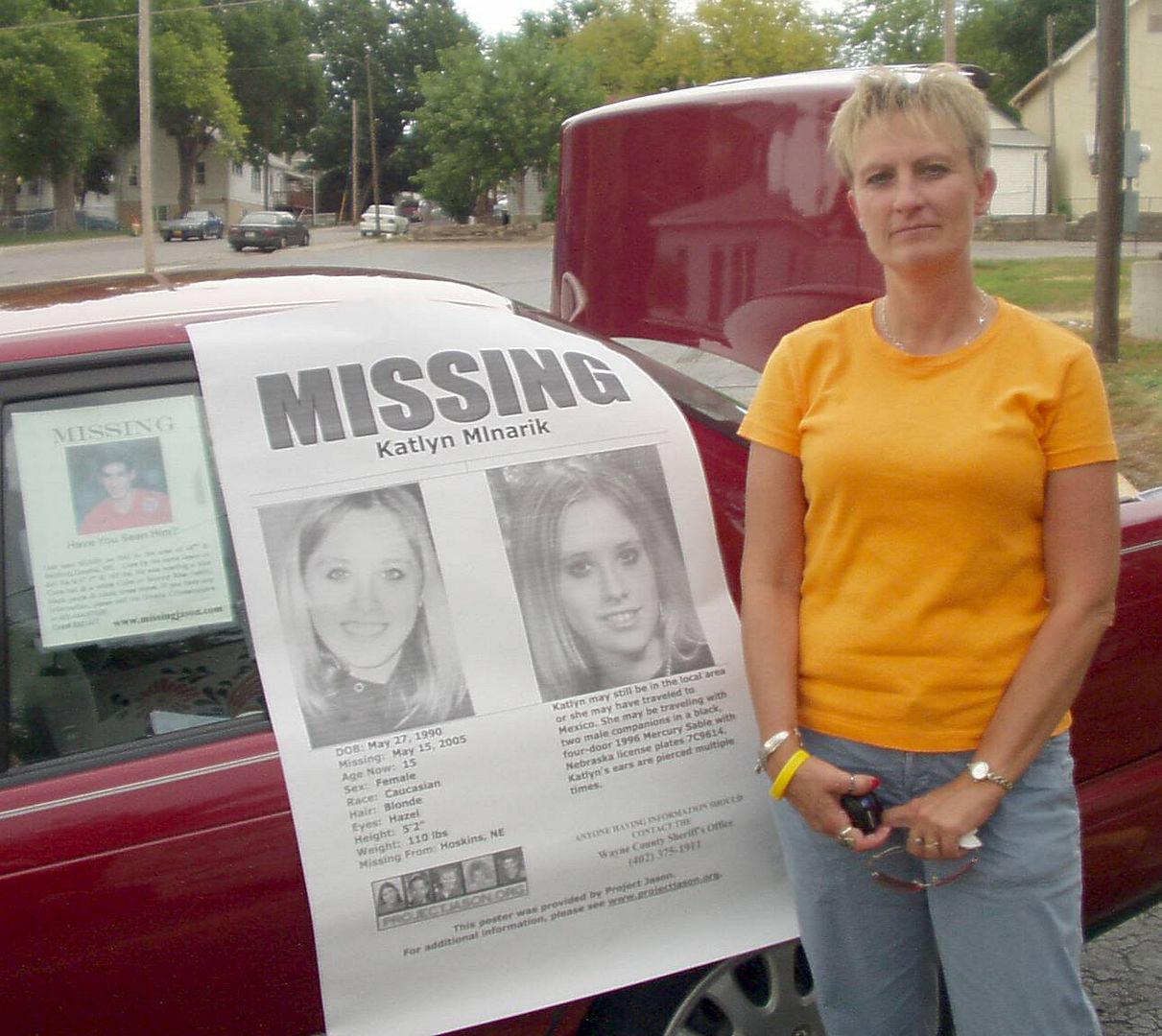 e didn't even notice the heat, we were so busy. Each time one of the teams came back to check-in, we heard stories of kind-hearted people whom they met on the streets of Omaha. People offered and took posters of Katlyn to place in their businesses and hand out. One of our volunteers even ran out of posters, and was promptly ushered into a business, where they made more copies at no charge.
When we were finished, I sat and talked with one of Katlyn's sisters about the situation. I could see the fear in her eyes as the tears welled up. Shelly was also overcome with the emotion of the day. We hugged for a long time. But, despite their pain, they could see the blessings of the kindness of strangers. From donated posters, and other needs, down to the water we downed to fight the heat, and the media's generosity, goodness was all around us.
We had one thing left to do. Find Katlyn.
Within 24 hours, tips were coming in from the public. While we do not know the outcome of these tips, it is an indicator that our campaign was a success in many ways. Shelly got her "feet wet" with the media, and the family was able to feel like they were accomplishing something, and indeed they were.
The feeling of hopelessness is a common one in these situations. Sometimes, it doesn't seem like enough is being done. It is hard to be patient, when your child is gone into the world when they should be at home. " I feel like a part of me has died and I don't think I will ever be the same person again." Shelly said.
Shelly shares a poignant message with us all: "To every person in the world....everyone has felt love. Imagine the most important thing to you is gone with the blowing of the wind and you keep chasing it but you can never catch up to it. How would you feel to think you may never see it again? Or if you do it isn't alive anymore. Life is too precious to be wasted and the time anyone is missing is time gone forever!"
With her heart breaking, Shelly pleads: "Please, please, Katlyn call me and let me know that you are okay. I understand if you don't want to come home right now. All I need right now is to know that you are safe and healthy. I Love You With All My Heart and you know that. Your whole family just wants you to come home so we can all give you hugs and love you again. No one holds anything against you Katlyn, we all just want you to be safe and happy. We will do anything for you! I Love You."
When Shelly pictures Katyln, she sees her daughter smiling back at her. She dreams of the old times they shared when they used to lay in her bed, watching TV, and falling asleep together.
Let's hope those dreams can be a reality again.
For additional information about Katyln, and to print a poster, please come to the Project Jason Forum:
http://tinyurl.com/8e6t9